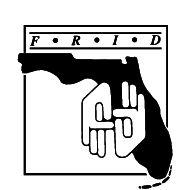 FRID is a sponsor for RIDís Certification Maintenance Program, CMP. FRID offers, as a benefit, free processing of CEUs to both our individual and organizational members. Here you will find a brief overview of the CMP program.
The integrity of RID Certification requires a commitment to life-long learning. It is the mission of the Certification Maintenance Program to ensure the quality and effectiveness of educational opportunities provided a framework for certification maintenance, which will guarantee full and fair participation for all certified members. (Motion 96.07) All RID certified interpreters and transliterators, NIC certified interpreters, NAD certified (levels III, IV, and V) interpreters are required to complete CEUs under the RIDís CMP. The CMP requires participants earn a minimum of eight continuing education units, CEUs, during each four-year CMP cycle. These CEUs are earned by successfully completing learning activities approved by sponsors.
Certification maintenance is based upon CEUs. The CEU is an internationally standardized measurement: ten (10) contact hours of participation equals 1.0 CEU. The traditional CEU is related to the instructional hours; the most common module of educational experience, and the 60-minute clock hour is used in making calculations. Only completed instructional hours are considered is assigning CEUs. Lunch hours, socials and break times do not earn CEUs. Non-traditional educational experiences must be assessed to determine how to assign CEUs in a manner consistent with the concept and philosophy of the traditional CEU. All continuing education activities must involve endeavors that exceed the participantsí routine employment responsibilities. This means that CEUs CANNOT be earned for workshops/activities that the interpreter is interpreting.
The content areas in which interpreters/transliterators can receive CEUs are divided into two categories: Professional Studies (linguistic and cultural studies; theoretical and experiential studies; specialization studies) and General Studies (human service and leadership; general knowledge studies).
Professional Studies contains content that directly affects the field of interpreting/transliterating. A minimum of 6.0 CEUs must be completed in this section during each CMP cycle.

Examples of Professional Studies topics include, but are not limited to:
Specialization Studies


Building skills in more narrowly focused areas within the broader field of interpreting or transliterating.

Examples include: Educational settings, Rehabilitation settings, Legal settings, Medical or mental health settings, Substance abuse recovery programs, Technical areas, Ethics applied in specialized settings, etc.
General Studies includes topics that enhance the interpreter/transliteratorís general knowledge base. There are no minimum requirements for CEUs in thiscategory, however, only two (2) of the eight (8) required CEUs will be counted toward certification maintenan

ce.

With the complexity of the requirements and criteria of the program, members easily become confused and misunderstand what is expected in order to satisfy the their obligation. FRID has developed this website and a variety of tools in order to assist members in navigating the CMP process. In addition to the above overview, FRID has deveoped an interactive PowerPoint demonstration that expands on the entire CMP process and members can get answers to their specific questions regarding the program. Click here to view this interactive PowerPoint.