IF YOU WISH TO TRADE PLEASE READ THIS PAGE AND STATE IN YOUR EMAIL THAT YOU HAVE READ AND UNDERSTAND THE TRADE POLICIES. IF YOU DO NOT STATE IT, THEN I WILL REQUEST THAT YOU DO SO, BEFORE I WILL DISCUSS TRADES.
Once you have read the policies and your ready to trade then click here-Please include word "TRADE" in subject line of email
Hello, I have been receiving many questions and requests on trading, so I have expanded my trade policies so that hopefully everything is clear.
1. QUESTION: Will you trade part for part?
ANSWER:Normally NO. This is a Business and not a Hobby, so no, I will not trade a left sunstreaker fist for a right sunstreaker fist. You get what you want, and I am out my time to pack and ship. Likewise I will not trade a $20+ jetfire gun for a $3 omnibot gun. I normally give you 50% of an items listed price for your parts in trade value, so there are some parts that you could actually receive 2 or 3 parts of mine for 1 of yours. (example:you could get 3 Hound missiles for 1 starscream long missile, and still have a $1 credit)
2. QUESTION: Will you take transformers bodies, or body parts in trade?
ANSWER:Normally no, I do have a small want list that does have some bodies on it (you can get to the want list from the main page), but otherwise I do not take bodies. I simply don't have the room to store them.
3. QUESTION: Can I trade in any Transfomer part or accessory?
ANSWER: I will take any G1 or G2 Transformer part based upon three parameters.
1.)The part is listed on my site. If I don't have it listed, then I can't use it.
2.)My current on hand quantity is 5 or less. If I currently have 6 or more in stock I will not take the part in trade. However as my stock is constantly fluctuating, I may be able to take the part at a later date.
3.)The part is something I can sell. To be honest, there are some parts out there that have a very low selling rate, and people just don't want them, so there will be parts that fit into rules 1 and 2, and I will still not take, simply because they will not sell. A perfect example are the guns for Runabout and Runamuck, but there are quite a few others as well.
4. QUESTION: I want to trade in 15 optimus prime missiles and 10 ultra magnus missiles for Targetmaster Firebolt figure?
ANSWER: While I used to be able to do this, the fact is, that all my high demand parts are being drained out with trades for very common pieces, so I have developed a list of items that if you want, must be purchased outright, OR your trades must come from the list. Sorry if this seems harsh, but it is the only way I can keep these items in stock, and keep from ending up with hundreds of Optimus Prime Missiles.
THE LIST:
PREDAKING PARTS
HOUND GAS CAN
HOUND SPARE TIRE
ALL TARGETMASTER FIGURES
ALL POWERMASTER FIGURES
ALL HEADMASTER FIGURES
MISSILES for 84/85 DECEPTICON JETS (Starscream, Skywarp, etc.)
JETFIRE PARTS
OMEGA SUPREME YELLOW CLIPS
FORTRESS MAXIMUS PARTS
BLASTER GUN
5.QUESTION: My parts have some wear on them can you take them in trade?
ANSWER:NO, I will only take parts in near mint to mint condition. Chrome pieces must have little (and I mean VERY LITTLE wear). Other parts must be free of scratches, and chips, cracks, etc. I will only send you top quality pieces, and I will only accept trades of the same quality. If you send me junk, I will return it to you at your expense, so please save everyone time and money, by sending only good parts. Please see picture below for basing your decsions on the quality of your parts. Gun 1 is what I would consider a near mint to mint piece. It has one very little spot of wear on it. Guns #2 and #3 are from my junk bin.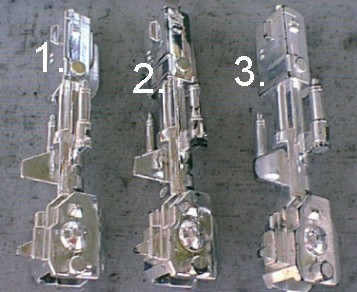 6.QUESTION: Can I carry a balance if I trade in a lot of parts?
ANSWER: Yes, I keep track of all balances in your favor. If you do not use up your balance within a 6 month period, then I will send you the remaining balance in the form of a money order, or through Paypal. Your choice.
Once you have read the policies and your ready to trade then click here-Please include word "TRADE" in subject line of email